IF TIME COULD HEAL SCARS
Tekst & melodi: Elisabeth Grindheim Brodalen.
Atriet Diakonhjemmets Høyskolesenter, Oslo 25/7-01

If time could heal scars
I just couldn't get enough of time
But it doesn't seem as if it's enough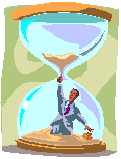 If time could have stopped
Or at least have gone a little slower
Every moment of joy would stand still
Though I know it's not possible
Upon this earth
Every minute's alike
So I turn to The One
Who's got time in His Hand
Lord can You hear my cry?
Lord can You heal me?